What's All the Excitement About?
Promenade Park, the first phase of Riverfront Fort Wayne, will be that new place where everyone goes. It will be the place to be, the place they're talking about all over the region, the place that will retain and attract our future talent and businesses to Fort Wayne. That's our vision.
The park will be for everyone, and we truly mean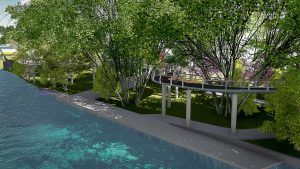 the entire community. It will always be a free park. We will plan many free and low-cost events and activities for all, no matter their background or life situation. This project is by the community, for the community. This park will embody the saying: Together we are better.
Promenade Park will have a state-of-the art pavilion with panoramic river views—a facility you can enjoy during events, or rent for special occasions. You'll be able to take a walk among the tree tops, splash around in the kid's canal, enjoy a band as you float on the river or while you picnic on the amphitheater, party at a festival, expand your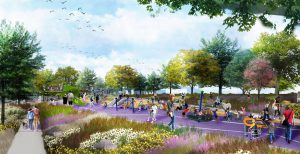 horizons at a lifestyle program, watch an outdoor movie, grab lunch with friends, learn how to fish, kayak or canoe, or learn more about the history of our rivers.
Promenade Park will have visitors from all over the country—maybe the world! That's what happens when you have a world-class destination.