Riverfront Fort Wayne is a special place – it's an emerging district that has a personality shaped and sustained by our rivers. Promenade Park is an exciting early step toward delivering the district, and soon, housing, restaurants and shops will complement the natural, historic, and recreational elements to further define the unique character of Riverfront Fort Wayne.
Our three rivers flow. They ramble and they roll; they roam and they rush. They rise. Their sound becomes a rhythm, becomes a beat—a heartbeat.
They breathe life into our community. They breathe commerce. Adventure. And romance.
On these banks, we're at our best—recognizing our past, but creating a new momentum. Forward.
Our rivers brought us here. Today, we're in the middle of a powerful story, and tomorrow looks even better.
In Northeast Indiana and downtown Fort Wayne, we're just like our rivers: Always moving.
View the Riverfront Fort Wayne brochure HERE.
MISSION
Riverfront Fort Wayne exists to delight, energize and unite our entire community through moving experiences and extraordinary places.
VISION
Riverfront Fort Wayne will evolve and develop to become a center of activity and a powerful source of regional pride—nationally recognized for its unique and vibrant character.
PARTNERS
Riverfront Fort Wayne is an initiative of the City of Fort Wayne, proudly supported by Mayor Tom Henry and approved by Fort Wayne City Council.
The City's Parks & Recreation Department has led the overall Riverfront Fort Wayne effort with support from Community Development and City Utilities.
This project has been supported by a strong network of partners in Northeast Indiana, including the Northeast Indiana Regional Partnership and the Regional Development Authority.
The Allen County-Fort Wayne Capital Improvement Board has provided funding for the property acquisition and public infrastructure.
Partners in private fundraising include the Community Foundation of Greater Fort Wayne and the Fort Wayne Park Foundation, Inc.
The Tri-State Watershed Alliance and other organizations and groups have continually supported Riverfront events and programs.
Many thanks to all of these partners for their ongoing support!
See the full list of Investors HERE
A LONG, WINDING HISTORY
Although Northeast Indiana has many rivers, the Maumee, St. Joseph and St. Marys have played a special role in local history, converging in downtown Fort Wayne. Over the years, our relationship to these three rivers has evolved and come full circle.
Crossroads of Activity
Northeast Indiana's three rivers were once the center of local life, commerce and transportation. In 1697, the French built a fort along the St. Marys River near the Miami Village of Kekionga. This fort was also on the important fur-trade route from the Mississippi River Valley to Quebec (at what is now West Superior and Van Buren streets).
After a series of American attempts to capture Kekionga, General Anthony Wayne established the first Fort Wayne in 1794 near the intersection of Main and Clay streets where the three rivers meet. This strategic location was often referred to as the crossroads by early settlers and Native Americans because it provided access to travel in three directions.
The city of Fort Wayne built up around this busy hub of activity, and once it was established in 1829, our three rivers became part of a larger network of transportation in the entire region, too. By the mid-1800s, Fort Wayne held a key position in the great Pennsylvania Railroad as the "Altoona of the West," and its location on the Wabash and Erie Canal earned it the nickname "Summit City" because it was the highest point above sea level on the canal route.
As our three rivers became part of our community, the St. Marys River winding around downtown played a key role in local culture.
In 1865, the Indiana State Fair was held on the north bank of the St. Marys in Lawton Park, and for many years, the Allen County Fair was also held on this river just west of downtown in what is now Swinney Park. The first night baseball game in the U.S. was held on the St. Marys, too, in 1883 in what is now Headwaters Park. As the 1800s drew to a close, industry in Fort Wayne continued to flourish, and more immigrants poured into the area seeking jobs. The historic Wells Street Bridge was built to replace an earlier bridge on the St. Marys in 1884, and to this day, it remains the oldest bridge on Fort Wayne's rivers.
Changing Times
The three rivers continued to bring prosperity and commerce to Northeast Indiana throughout the early- to mid-1900s. During this time, Fort Wayne's Park and Boulevard System was significantly shaped by the famous landscape architect George Kessler. In Kessler's 1912 master plan, he organized and expanded the city's urban landscape to incorporate our three rivers. Among many accomplishments, he created a plan for Lakeside Park, and envisioned a green space for recreation and floodwater control in the bend of the St. Marys River, which became Headwaters Park.
Over the years, Headwaters Park has developed into one of the most forward-thinking city park projects in the nation, beautifying the downtown landscape and providing green space for many regional festivals.
Between 1931 to 1934, the Three Rivers Filtration Plant was built at the confluence of our three rivers downtown. This regal Collegiate Gothic structure is still there today, and it produces 72 million gallons of safe water each day for its customers.
But as with many communities, Fort Wayne began to withdraw from its downtown in the late 1900s as residents relocated to the suburbs. During this time, our rivers largely fell to disuse.
After major flooding in 1982 and 1985, city workers helped the US Army Corps of Engineers build ten miles of higher levees along the three rivers to help protect against floodwaters, and our rivers disappeared behind these walls and natural brush.
Riverfront Revival
In the 2000s, Northeast Indiana's residents began to recognize the importance of our rivers again.
Mayor Tom Henry established Legacy Fort Wayne in 2011 to guide the spending of approximately $75 million through the Light Lease Settlement and Fort Wayne Community Trust funds. The Mayor solicited hundreds of ideas from the community on how best to utilize this once-in-a-lifetime opportunity, and the desire for riverfront development rose to the top of the list.
With the public's overwhelming support, Mayor Henry commissioned a comprehensive Riverfront study. Throughout the process, thousands of residents completed surveys, attended events, heard presentations, shared their ideas and even experienced the rivers themselves with riverboat excursions and Dragon Boat races.
In 2015, a conceptual plan was drawn up and shared with the community. Fort Wayne City Council approved $6 million in funds for Riverfront work, including maintenance, development and events. Mayor Henry formed a Riverfront Implementation Committee to guide the project, and the city hired Riverworks Design Group to take the conceptual plan and develop schematic designs.
This led to Phase I of Riverfront Fort Wayne.
Today
As residents move back into downtown, we're coming back to our rivers, too. Our community currently enjoys boating, kayaking, biking, commerce, community events and natural scenery along our rivers. We still get drinking water from the St. Joseph River for some 250,000 people in the Fort Wayne area, as well.
Now that Phase I of Riverfront development is underway, our three rivers are becoming the center of local life once again.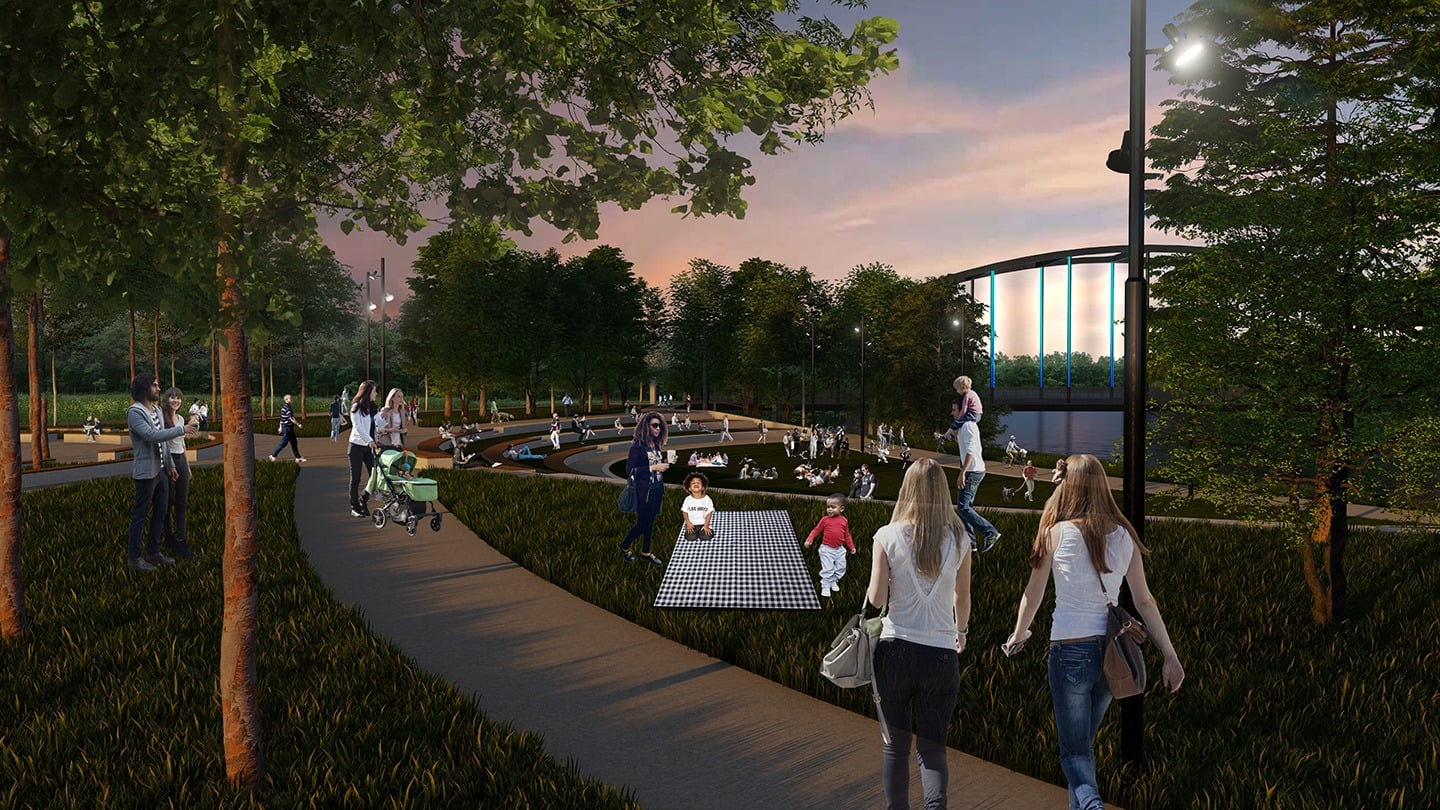 The work to create an exciting and distinctive place called Riverfront Fort Wayne is continuing beyond Promenade Park with the creation of a Master Plan that will guide the way private development takes place, ensure residents have access to public spaces along the riverfront, and create a unique experience for all residents and visitors.
"These next steps are all about creating a vibrant district that is unique to Fort Wayne," said Mayor Tom Henry. "We want to create the right mix of commercial, retail, housing and public space that will be welcoming to all residents and will be a point of destination for our region."
You can find complete information about the Master Planning Process here.
FAQs
Got questions? So do we.
General
What happened to the apostrophe in the St. Marys River?
+
According to the United States Board on Geographic Names, it is correct to write St. Marys River, and incorrect to write St. Mary's River. In all communications, Riverfront Fort Wayne will use St. Marys River, and will advocate for the elimination of St. Mary's River in all other signage and communication.
Can we keep our rivers from flooding?
+
Controlling flooding and protecting public and private property from flood damage is a challenge for many communities on rivers. Riverfront Fort Wayne has designed its developments to accommodate flood waters by channeling them into natural low and open areas and not allowing development in areas we know are flood-prone.
Does the riverfront have wi-fi?
+
No, unfortunately the riverfront does not offer wi-fi at this time.
Does it cost anything to get in?
+
Riverfront Fort Wayne is considered a public park, and there is no park admission. However, certain events will charge admission, so be sure to check the event's calendar listing.
Water Quality
What can I do to help make our rivers cleaner?
+
You can have a big impact on the quality of rainwater runoff that flows from your house and yard into our rivers. When it rains, rainwater runs over the lawn and over hard surfaces and picks up whatever it comes into contact with. So rainwater runoff may carry with it the empty pop bottle you threw out the car window, or the bacteria from dog waste on your lawn. It can even pick up the chemicals in the fertilizer you spread or the insecticide you use.
Reducing bacteria in our rivers requires that we all work together to improve public and private sewer systems and that businesses follow the law when discharging any kind of wastewater. Never throw trash or cigarette butts in the street or in a parking lot. Use recycling containers for plastic, glass, metal and paper.
What is Fort Wayne doing to clean up our rivers?
+
Fort Wayne is investing $240 million to upgrade the sewage treatment plant so that it can take and treat more sewage. It is also constructing new storm sewers and building a large tunnel in the bedrock under Fort Wayne that will store sewage during rainy weather then take it to the sewage treatment plant later when the plant can treat it.
The city is working to reduce other pollutants that get into the rivers from rainwater runoff by implementing programs such as the rain garden program to slow down the rainwater runoff and take out some of the pollutants before the water gets to a river.
In addition to these efforts, the city has begun to implement the Riparian Management Plan brought forth by the consulting group Biohabitats. You can review that full plan here.
What kinds of pollutants are in the rivers? Where do they come from?
+
Fort Wayne's rivers are affected by multiple sources of pollution. The main categories are sediment, nutrients, bacteria/pathogens and chemicals.
Many Midwestern cities, such as Fort Wayne, collect both rainwater runoff and sanitary wastewater in the same set of sewer pipes called "combined sewers." Sometimes when it rains, combined sewers do not have enough capacity to carry all the rainwater and wastewater or the sewage treatment plant cannot treat all of the combined flow. In this situation, the combined wastewater overflows, and in Fort Wayne's case, it goes into one of the three rivers – creating a combined sewer overflow (CSO).
Fort Wayne is now investing in construction projects to reduce the amount of combined sewage that goes into our rivers and streams.
Why are our rivers brown?
+
As Fort Wayne's rivers move, they collect soil, sediment and debris washed from farm fields and developed land when it rains. You may have noticed that after a heavy rain, the rivers look even more brown than when it hasn't rained for a while. This is because of the kind of soil we have in northeastern Indiana is made up of very tiny particles that tend to float easily.
In areas of the country where the soil is sandy, river water is clearer because the sand sinks to the bottom. But even though our rivers will never be completely clear and pure, we can do a lot to make them cleaner.
A watershed is an area of land where all the water that falls and drains off goes into the same place. Watersheds can be large or small. They may cross county, state and national boundaries. In addition, there may be inception-style watersheds within watersheds.
For example, downtown Fort Wayne is in the Lower St. Joseph River watershed, which is in the St. Joseph River watershed, which is part of the Maumee River watershed, which is part of the Lake Erie watershed, which is part of the Great Lakes watershed.
Basically, that means rainwater that falls from the roof of a downtown building could eventually end up in Lake Erie.
Riverfront Activities
Is it safe to eat the fish I catch in Fort Wayne's rivers?
+
The Indiana Department of Health publishes a fish consumption advisory indicating which fish are safe to eat and how often. Restricted consumption is recommended for fish that are likely to contain high levels of PCBs and/or Mercury. Visit the site here: http://www.in.gov/isdh/23650.htm
What kinds of fish do we have in our rivers?
+
Surveys by the Indiana Department of Natural Resources have found a variety of sport and non-game fish in the rivers. Saugeye, a walleye-sauger hybrid, have been found along with largemouth and smallmouth bass, white and black crappie, bluegill, catfish, river chub, creek chub, yellow bullhead and longear sunfish. Non-game fish such as carp and suckers account for most of the identified species.
Can we swim in our rivers?
+
Although swimming in Fort Wayne's rivers is not prohibited, there are health and safety concerns that discourage people from doing so. Depending on water levels and other environmental factors, pollutants can affect your health if you swim in affected waters. Fort Wayne's public swimming pools and splash pads or private lakes and ponds are safer swimming options.
How deep are our rivers?
+
The depth varies according to location and the amount of rain. In summer when it is very dry, areas of the rivers, such as just below the St. Joe Dam at Johnny Appleseed Park, may be just a few inches deep. During flood conditions, the Maumee River near the Hosey Dam may be 15 – 17 feet deep. People should not wade or swim in the rivers, especially after heavy rains when the depth and current can be uncertain.
Where do Fort Wayne's rivers begin and where do they go?
+
Many people think rivers flow from north to south, but Fort Wayne's rivers are great examples of rivers that don't flow in the direction you think they might.
Fort Wayne sits on what is known as the St. Lawrence continental divide that separates the Great Lakes Basin from the Gulf of Mexico watershed. Although the land around Fort Wayne is fairly flat, the city is actually on a small ridge that resulted from receding glaciers that covered the area in the Ice Age.
The St. Joseph River begins in Hillsdale County, Michigan. It flows southeast into Ohio where it turns and flows southwest to Fort Wayne.
The St. Marys River begins near Celina, Ohio. It flows northwest into Fort Wayne where it meets the St. Joseph River near Headwaters Park. The two rivers combine to form the Maumee River. It flows in a northeasterly direction and ends at Toledo where it dumps into Lake Erie. The Maumee River is the largest tributary to the Great Lakes. So some of Fort Wayne's rivers flow generally to the north and east and others flow to the south and west.
Can I drive a motorized vehicle on the Rivergreenway?
+
Generally no, only maintenance, utility and emergency vehicles are allowed to drive on the Rivergreenway. The only motorized vehicles that are allowed by trail users on the Rivergreenway are Segways and personal mobility devices for disabled persons, such as electric wheelchairs.
Can I camp at the riverfront?
+
No, the riverfront does not allow camping.
Where can I rent canoes, kayaks and bikes?
+
Fort Wayne Outfitters located at 1004 Cass Street rents bikes and paddle sport equipment (www.fwoutfitters.com).
You can now also take advantage of Fort Wayne Bike Share, an easy way to rent a bike for a quick trip along the rivergreenway or downtown. Learn more here.
BLOG
The place to talk all things Riverfront. Flow, rivers, flow.