Movement Makers: A Chat with Kathy Callen
Movement Makers: A Chat with Kathy Callen, President of the Fort Wayne Park Foundation
How are you involved with Riverfront Fort Wayne.? 
I am a board member of the Fort Wayne Park Foundation which for the past 40 years has been quietly raising and stewarding funds for the Fort Wayne Parks and Recreation Department.  When we heard of this exciting initiative, our board recognized the critical importance of this development, especially Promenade Park, to the resurgence of our downtown and the vibrancy of the region.  To show the Park Foundation board's support, we committed to raising $1,500,000 for the construction of the Park Foundation Pavilion in Promenade Park.  With a generous $500,000 match from the Community Foundation of Greater Fort Wayne, Inc. and wonderful commitments from individuals, businesses and foundations, our goal was reached just 4 months later. The Park Foundation is proud to be a major donor to the construction of Promenade Park.
What excites you about Riverfront Fort Wayne?
Riverfront Fort Wayne offers something for everyone … no matter your age, interests or abilities. Music concerts, boating and waterfront activities, walking and biking the trails, birdwatching or just enjoying the beautiful green spaces … those are just a few of the activities available to our community. I'm also excited about the additional private investment that is occurring downtown as a result of Riverfront Development including restaurants, housing and retail. This project has really injected excitement about the future of our community and interest in being part of this great transformation.  It's a real asset to our economic development efforts and the attraction and retention of talent that is so important to the future of our region.
What do you tell people about Riverfront Fort Wayne?
I tell people that this is the biggest positive change I have seen in Fort Wayne in my lifetime.  Having lived here my whole life, I watched our community weather some really bad times and celebrate great successes.  But … I have never seen such excitement and "buy-in" from our whole community to bring this city back to life.  So many people of all ages and abilities want to be part of the change.  It's the beginning of a new, better, more inviting and vigorous Fort Wayne.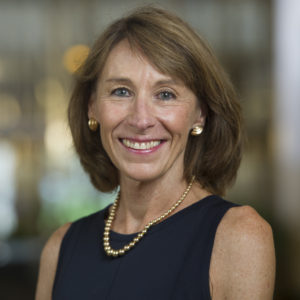 Kathy Callen was born and raised in Fort Wayne, graduated from Bishop Luers, IU in Bloomington and received her MBA degree from Miami University in Oxford, Ohio. She is currently the Community Engagement Executive at Old National Bank.