Movement Makers: A Chat with Riverfront Riparian Management Supervisor Dan Wire
Tell us how you are involved with Riverfront Fort Wayne. 
I assist planning groups and help with events that involve our rivers. Whenever my knowledge is beneficial to promoting a better understanding of rivers I'm happy to participate. One major area where I am active is supporting activities that get people to the rivers and sometimes on the rivers. Another area gaining momentum, with the support of the Fort Wayne Parks & Recreation Department, is the focus of preserving our rivers and adjacent land. This includes improving the natural habitat for wildlife by removing invasive species on land and obstructions in the waterway.
What excites you about Riverfront Fort Wayne?
The potential the rivers have to add to the growing vibrancy of our community. Being outdoors is good for your health. Paths along the banks of our rivers are an enjoyable place to walk, run or bike. There are also a growing number of competitions on the rivers that provide exercise and canoeing, kayaking or any kind of boating with others is a great way to socialize.
What do you tell people about Riverfront Fort Wayne?
It's the one stop shop for all the information about the Riverfront. From watching the live cam showing the transformational construction to upcoming events, RiverfrontFW.org is the best way to stay connected with the exciting changes the heart of our community is embracing.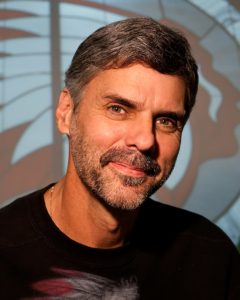 Dan Wire is one of Riverfront's biggest advocates. You can find him on our three rivers throughout the year as he assists with clean ups, tours, education, and more!