Creating a Convergence
In May, an amazing thing happened. A generous donor and the Community Foundation combined resources to donate $150,000 for public art. Not just your average piece of sculpture that you drive past and think, "Is that a sculpture?" No, our directions from Fort Wayne Parks & Recreation were very specific. Help us select an "iconic sculpture that will be the visual anchor of the Promenade Park entrance." Okay, so no pressure. Just find the best sculpture by any artist in the nation for $150,000. Sure. No problem. Drawing on their experience, Arts United put together a selection committee of community representatives with a wide variety of perspectives, and we got to work.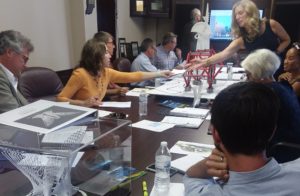 We started by pulling together a wish list of artists, some of whom we guessed would not take on a project of this relatively small size as compared to something like Cloud Gate, aka The Bean, in Chicago. But, we figured we should take the time to ask. We were extremely fortunate to have five exceptional artists submit proposals for the sculpture. When the first model was delivered by the artist, who drove it to Fort Wayne from Florida, Alec Johnson and I were anxious to see it. As Linda Howard, carefully unwrapped the model of Convergence, Alec and I felt an enormous sense of relief. The sculpture was stunning and had surpassed our expectations. Then, four more amazing sculpture proposals were submitted. This was not going to be an easy decision.
Our committee thoroughly reviewed all of the documents, discussed each sculpture, and voted.  But, in truth, the vote simply confirmed the obvious committee preference. When the committee reviewed the winning sculpture, Convergence by Linda Howard, the energy in the room shifted. Committee members were excited about the shadows it would cast as the sun moved across the sky. They could imagine visitors gathering around the sculpture to examine the shapes and how they interacted with each other. And, they could envision social media posts with smiling families in front of this new symbol of Fort Wayne. We had a winner. As chair of the committee, it was a joy to watch the selection process unfold. The Parks & Recreation Department and Arts United provided help when we needed it but allowed the committee to reach its conclusion independently. And, it worked. The committee thoughtfully, intentionally and unanimously selected Convergence. Now the countdown to installation begins. 12 months to go.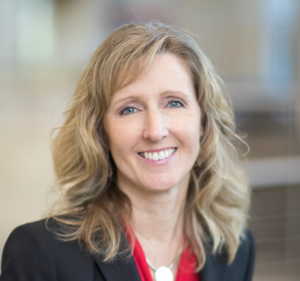 – Ruth Stone, Riverfront Sculpture Review Committee Chair, Arts United Board member, and President, CDO Consulting Group