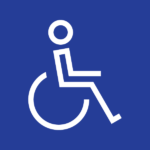 ACCESSIBILITY
Promenade Park is for everyone. We've designed the park for maximum accessibility. Please see the list of features below:
Gradual sloping walking paths that meet or exceed ADA standards.
Intentional pathways for easy navigation.
Patterns in the pavilion floor that accommodate challenges associated with Parkinson's Disease.
Multiple family restrooms.
Full-length mirrors in restrooms.
Priority parking along Wells Street.
Children's play areas designed with accessibility in mind.
Floating docks for ease in and out of kayaks and canoes.
Pathway designs with 5-foot turn radius to accommodate wheelchairs.
Wheelchair seating availability at exterior tables.
Water fountains with ground-level bowl for service animals.
Zero-entry splash pad area.
Density and abundance of shade for comfort.
Landscaping that features plants that make sound as the wind blows.
Landscaping that features plants with significant texture.
Quick-draining soil that allows for easier access after rain.
and much more!
This list of features continues to grow as we make updates to the park.