River, Set, Go!
Celebrate one year of Promenade Park with us!
Join us for River, Set, Go on Saturday, August 8 at Promenade Park!
This event is FREE and no registration is required.
Parking is available at the North River Property at Clinton and 4th Street.
Rent a kayak from Fort Wayne Outfitters or bring your own and enjoy a day on the river.
Practice yoga at the Ambassador Enterprises Amphitheatre.
Play fun, simple kayak games on the river.
Paddle in a kayak parade from Guldlin to Promenade Park.
Celebrate our anniversary with a floating firepit send-off.
Questions? Please call 260-427-6000.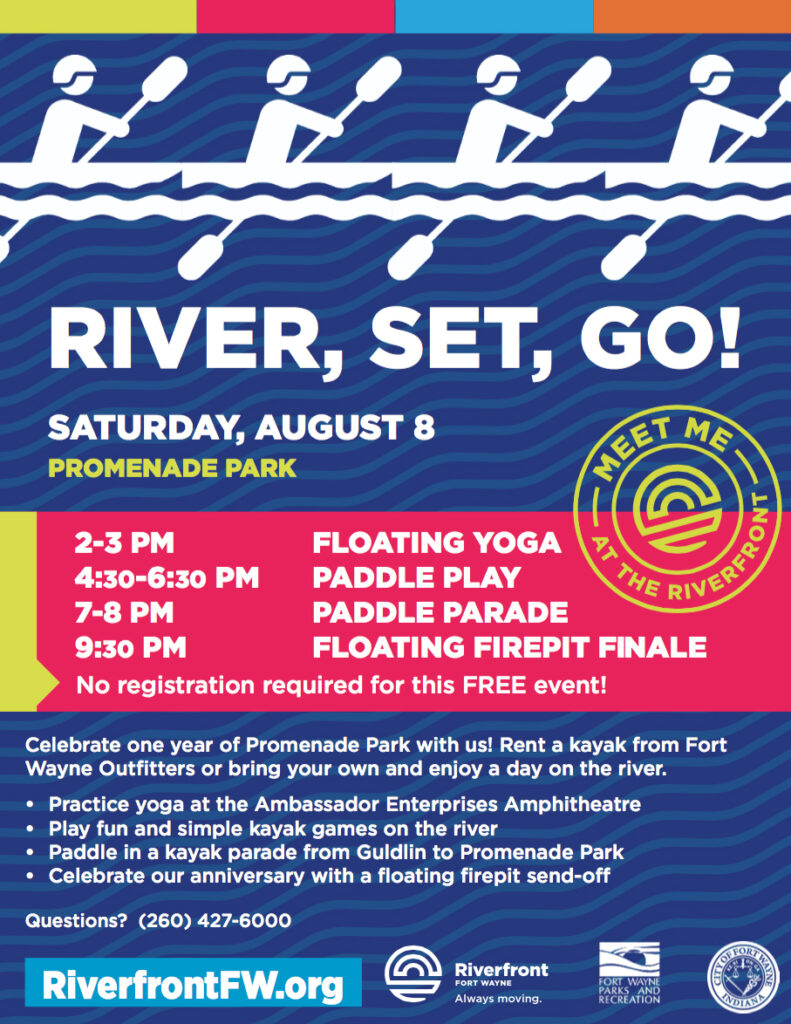 Participation details:
Participants for floating yoga can join for free in the Ambassador Enterprises Amphitheatre.
Participants of Paddle Play and Paddle Parade can visit fwoutfitters.com to reserve a kayak, canoe, or paddleboard at least a day in advance. Make sure to sign their waiver online.
Participants with their own kayak and gear (lifejacket required), can launch at Guldlin park or at Promenade Park. Limited parking is available on the street behind Fort Wayne Outfitters, or on Harrison St.
On the day of the event, Paddle Play and Paddle Parade participants will need to visit the white pop-up tent on the North dock to check-in.
A Fort Wayne Parks and Recreation waiver and release form must be signed at check-in to participate.
Safety Details for participation:
Everyone participating in River, Set, Go water events must wear a personal floatation device (PFD or lifejacket) while on the river.
In an emergency, hold your paddle straight up in the air and waive it back and forth to draw attention to yourself.
Please avoid hitting other paddlers with your paddle.
Riverfront Fort Wayne and Fort Wayne Parks will be following the Indiana state governors' guidelines regarding face coverings.
Please stay home if you feel sick , or are experiencing symptoms of COVID-19, which include; fever, cough, shortness of breath, muscle or body aches, headache, new loss of taste or smell, sore throat, congestion or runny nose, nausea or vomiting, and/or diarrhea.
Please self-screen yourself for symptoms of any virus before arriving at Promenade Park. If you arrive appearing to have any symptoms, Riverfront Fort Wayne has the right to send you home.
If participants are 65 years of age or older, or are high risk of contracting COVID-19, it is recommended that you do not attend the event.
Hand sanitizer will be provided to the public involved in the event. If you have your own similar hygiene supplies, please use your own.
High touch surface areas will be sanitized frequently by Fort Wayne Parks and Recreation staff.
Participants will be required to fill out contact information in case a positive case of COVID-19 is reported.
Gatherings at Promenade Park after the event are discouraged.
If you have your own Coast Guard approved life jacket or PFD, please bring that to wear for yourself.
Social distancing will be enforced by the use of signage, waivers for participants, and verbal reminders by staff members.