Promenade Park Groundbreaking
On June 29, 2017, ground was broken for the much anticipated riverfront Fort Wayne project — Promenade Park. More than two hundred excited spectators were there to experience the ceremony first hand, and I was among them.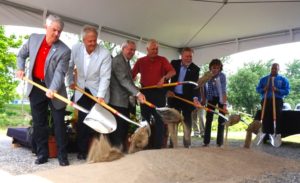 City officials, major donors, Riverfront advocates, and the design team were all in attendance to observe Mayor Tom Henry lead the festivities. During the program, speakers included Mayor Henry and Parks & Recreation Director Al Moll, along with six others, including Northeast Indiana Regional Partnership President John Sampson. I hadn't heard any of these speakers in person before, so being there to hear them talk about the Riverfront project was inspiring. Mayor Henry mentioned that he traveled to Indianapolis recently and they, like many other cities, keep asking him what our secret is. Those city officials say whatever we're doing in Fort Wayne is working and they want to duplicate it.
Living in a city with such a great reputation is important to me, and makes me proud of where I'm from. Towards the end of the ceremony, Sampson shared a story about traveling with his family to Seattle, Washington, where he and his wife dated in high school. "I am not going back," said Sampson. "This is my home because of days like today." This sentiment stood out to me because in the fall of 2016, I moved down to West Lafayette to attend Purdue University. I love it there, but moving away sure did make me appreciate home. I am lucky to call Fort Wayne home, just as Sampson does.
As part of the Fort Wayne Parks Department, I was able to assist with the behind the scenes work, which I love. The morning of the groundbreaking, I helped Riverfront Programs and Events Manager Megan Butler set the stage for the ceremony, which included arranging tables, along with table settings. I stood at the entrance and handed observers agendas as they arrived, which gave me an opportunity to meet and interact with numerous business people from the Fort Wayne area. This was very exciting for me, as I love growing my network. Once inside the event, attendees were offered complementary Riverfront inspired Cookie Cottage cookies and Poptique Popcorn and water. Also available to take were a variety of Riverfront pins, along with Riverfront and Fort Wayne Parks & Recreation "Fun Times" programs.
Being a Fort Wayne native and hoping to continue a life in Fort Wayne, this event was so interesting for me to take part in. I absolutely love being involved with the evolution of the city I call home. The Riverfront project really excites me, and makes me want to stay in Fort Wayne after I graduate even more than I already did. I feel that riverfront development will give Fort Wayne an extra spice. Downtown Fort Wayne is already one of my favorite places to be, and I'm looking forward to spending an even greater deal of time here once Riverfront takes off.
The groundbreaking ceremony was only my fourth day on the job with Fort Wayne Parks & Recreation-talk about exciting. The opportunities I have already been given intrigue me for my time to come.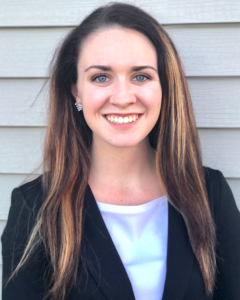 Mackenzie Joefreda is a sophomore studying Marketing & Finance at the Krannert School of Management. She is a member of the PASE Board of Directors, the Purdue "All-American" Twirling Team and Purdue Cru, and she blogs for the Krannert School of Management Undergrad Life. This summer, she is working as a Marketing Assistant with the Fort Wayne Parks & Recreation Department, and as an Intern with Junior Achievement of Northern Indiana.