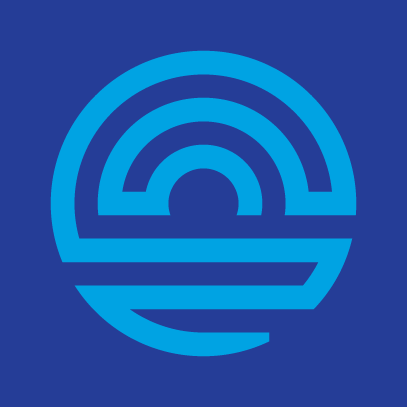 News
Hello, New Park: Riverfront Fort Wayne's Promenade Park Opens with a Grand Three-Day Celebration
Fort Wayne returned to its historical riverfront today, with the opening of Promenade Park, a $20 million development that renews Fort Wayne's three rivers as a regional destination for recreation, arts and culture, and nature activities. This one-of-a-kind park joins natural rivers with downtown Fort Wayne's thriving urban center.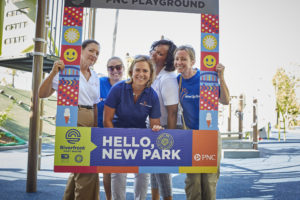 Mayor Tom Henry, Parks & Recreation Director Steve McDaniel, Former Parks & Recreation Director Al Moll and Park Board President Rick Samek boarded a floating stage and clipped a custom-made ribbon that stretched across the St. Marys River, from bank to bank, to officially dedicate Promenade Park, the first phase of Riverfront Fort Wayne.
"The momentum and excitement we're experiencing in Fort Wayne is evident with the completion of Promenade Park. Tonight's official opening of the park and a weekend full of unique activities are clear examples of a community that's united and moving forward in a positive direction," said Mayor Henry. "Riverfront Fort Wayne positions our city as a point of destination for more economic development opportunities, job growth, new residents, and strong and thriving neighborhoods. Promenade Park was a collective effort with the public and private sectors coming together to say Fort Wayne is worth investing in for today and to help ensure a bright future."
"This is a historic moment as we introduce our 87th park to the city of Fort Wayne. Promenade Park has been several years in the making, and today's celebration wouldn't be possible without the support of Mayor Henry, City Council, the Board of Park Commissioners and the entire city of Fort Wayne," said Fort Wayne Parks & Recreation Director Steve McDaniel. "One of our goals of building on the Riverfront was to provide active recreation on our rivers, and we are excited to see our citizens become better connected to these important resources."
The south bank of Promenade Park is designed around social interaction, special occasions and everyday outings. Its waterfront features have a variety of indoor and outdoor meeting spaces that range from small and intimate to large and spacious, and include the following features:
Old National Bank Plaza
Park Foundation Pavilion
Betsy Chapman Family Gardens
Little Creek Bioswale
Rotary Fountain
Auer Lawn
Ambassador Enterprises Amphitheatre
Sweetwater Bandshell
The Journal Gazette Foundation Dining Gardens
Doermer Kids' Canal
Convergence, Linda Howard, 2018, presented by the Waterfield Foundation
The tree-lined north bank of the river leverages the Rivergreenway trail system and expands on the river's recreation and exploration opportunities, and includes the following features:
Parkview Tree Canopy Trail
Boating Docks and Ramps
PNC Playground
Visit RiverfrontFW.org/investor-recognition for a list of individuals and businesses that have made a considerable donation to Promenade Park.
Promenade Park was designed to be welcoming and accessible to people of all abilities. The paths have tactile surface features for vision-impaired individuals, wheelchair accessible grassy areas, accessibility at the water's edge for easier transfer from wheelchair to watercraft, a dedicated handicap parking area, family restrooms, wide paths, and more.
The three-day grand opening celebration kicked off Friday night with the ribbon cutting ceremony and continued until well after dark, with musical and comedy acts, a performance by national musician Stevie Redstone on the floating stage, a Pyroscope Performance, which featured fire dancers on the water, and a river lighting display of glowing, multi-colored balls that floated under the Wells Street Bridge, past Promenade Park, and into nets positioned just beyond the Harrison Street Bridge.
"Fort Wayne's three rivers merge in the center of downtown, where the city's historic roots trace back to the days of trading posts and forts. The rivers made this city a transportation center and brought the Wabash-Erie Canal, and later the railroad, as technology advanced. Our rivers have transformed Fort Wayne into a cutting edge, creative center in the Midwest," said Megan Butler, Riverfront Fort Wayne Program and Events Manager. "Riverfront Fort Wayne is the leader and unifying force of the efforts of the entire community to be: Always Moving."
The celebration will continue on Saturday and Sunday. Saturday's activities will include: A visit with Walkaround Elmo from Sesame Street, the Fort Wayne Dragon Boat Races, St. Marys River Boat Tours, a kayak parade, Riverfront Revival Lighted Boat Parade and more. Sunday's activities will feature Urban Birdwatching, Project Squirrel, a Native Butterfly Release, River Renaissance Burning Sculpture in the St. Marys River and Stargazing on the Riverfront.
For a complete schedule of grand opening weekend activities, visit RiverfrontFW.org/grand-opening.
Promenade Park is the first step in creating a unique and engaging riverfront district called Riverfront Fort Wayne. The City of Fort Wayne and its partners are currently working to create a master plan that will act as a roadmap for attracting housing, restaurants and shops that will complement the natural, historic, and recreational elements of the district.
Promenade Park Grand Opening sponsors include the following: The City of Fort Wayne, the Fort Wayne Parks & Recreation Department, The Hagerman Group, Harlow Landscaping, The Barbara Bradley Baekgaard Family Foundation, Shindigz, Custom Sound Designs, WANE TV-15, Majic 95.1, Design Collaborative, Hoch Associates, Engineering Resources, One Lucky Guitar, Crosby Excavating, Ash Brokerage and Fort Wayne Magazine.